Rama Rao Amara, PhD
EPC Associate Director for Research Strategy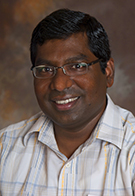 Contact Information
Email
ramara@emory.edu
Phone
404-727-8765
Lab Website
Core Researcher
Emory National Primate Research Center
Charles Howard Candler Professor
Emory School of Medicine Department of Microbiology and Immunology
Biography
Rama Rao Amara, PhD, is an expert in developing vaccines against infectious diseases. He has more than 25 years of research experience with immunology, pathogenesis and vaccine development for infectious diseases.
Dr. Amara and his research team are currently developing vaccines against HIV, SARS-CoV-2, HCV, TB and influenza using mouse and nonhuman primate models. During the past 18 years, his laboratory mastered how to effectively educate the host immune system to induce a potent humoral and cellular immunity in systemic and mucosal sites that is optimal for a specific disease condition. Dr. Amara's laboratory employs a combination of a variety of vaccine delivery platforms, such as DNA, mRNA, MVA, recombinant proteins and a probiotic Lactococcus lactis; molecular and synthetic adjuvants, such as GM-CSF, CD40L, alum, 3M-052, dmLT and AS03; and routes of immunization, including intramuscular, intradermal and oral needle-free vaccination.
A major part of Dr. Amara's research is focused on understanding the pathogenesis and immune correlates for HIV/AIDS to develop novel vaccines to prevent HIV infection and therapies to cure HIV. He played a major role in the preclinical development of the AIDS vaccine that completed Phase 2a human clinical trials in the U.S.
For more than 10 years, Dr. Amara has been a co-Program Director and leader of the Emory Consortium for Innovative AIDS Research (ECIAR), one of two consortia the NIH established that includes multiple researchers at Emory and beyond who are focused on developing novel vaccines and cure strategies for HIV/AIDS. The team was the only one that recently received a second renewal from NIH.
Dr. Amara is also working with collaborators in India to develop an HIV vaccine that could be used to control AIDS on the Indian subcontinent. In addition to the development of preventive vaccines, Dr. Amara's laboratory develops approaches to treat HIV infection by combining PD-1 check point blockade with therapy vaccination.
When the COVID-19 pandemic emerged, Dr. Amara and his research team quickly developed COVID-19 vaccines within a few months using their 20+ years of knowledge in HIV/AIDS vaccine work. The team showed the vaccine efficacy in mice and NHPs. Dr. Amara received a grant from the National Institute of Allergy and Infectious Diseases (NIAID) for this research and was featured talking about his COVID-19 vaccine in the season 2 opening episode of "Your Fantastic Mind".
Dr. Amara has received more than $190 million in research funding as a principal investigator or co-program director, published more than 140 peer-reviewed articles in high-impact scientific journals and currently serves as a reviewer for multiple such journals. He has also served on multiple NIH study sections, including as a chair for some, and serves in an advisory role on multiple leadership/advisory committees at Emory and outside the university, including at NIH.
Dr. Amara received his doctorate in molecular biology and immunology from the Indian Institute of Science in Bangalore, India. His thesis on the immunopathogenesis of Mycobacterium tuberculosis, the causative agent of tuberculosis, received the prestigious "Best Thesis Award for 1999". He completed his postdoctoral training in the lab of Harriet Robinson, PhD, a former Microbiology and Immunology Division Chief at the Emory Primate Center.
Learn More
Research Collaborators
Other Related Links
Dr. Amara on Revisionist History