R. Paul Johnson, MD
Director, Emory National Primate Research Center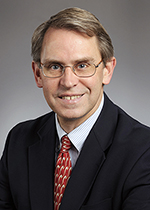 Contact Information
Email
epc-director@emory.edu
Phone
404-727-7709
Biography
R. Paul Johnson, MD, is internationally recognized for his leadership in developing innovative research models and in building effective working relationships with researchers throughout the world.
He brings to Emory a deeply rooted commitment to expanding our body of knowledge in infectious diseases for the benefit of patients everywhere. His emphasis on developing ground-breaking research through collaborative relationships aligns perfectly with our mission of transforming health and healing. 
Among Johnson's research interests is identification of immune responses that can protect against HIV infection. "Analyzing protective immunity in macaques immunized with SIV is one of the best models we have to try to design better AIDS vaccines," says Johnson. "The focus of my work is determining what sort of immune responses can best protect people against HIV."
Before joining the EPC, Dr. Johnson served as director of the New England Primate Research Center (NEPRC), chairman of the NEPRC Division of Immunology and professor of medicine at Harvard Medical School and Massachusetts General Hospital. In addition to his research and serving as director of the NEPRC, Johnson has held various leadership roles at Harvard Medical School, including director of the Developmental Research Core for the Harvard Center for AIDS Research and associate director of the Harvard Committee on Microbiologic Safety. He has served as a highly regarded mentor for numerous post-doctoral fellows and graduate students and has taught medical students, residents and fellows within the clinical service of Massachusetts General Hospital and for the Harvard Medical School Virology and Immunology Programs.
Johnson is Board Certified in Internal Medicine with a Certification in Infectious Diseases. He is a member of the American Society for Clinical Investigation, a Fellow of the Infectious Disease Society of America and the recipient of multiple national and international awards in AIDS research, including the Elizabeth Glaser Scientist Award. He has published nearly 150 peer-reviewed scientific papers as well as book chapters, monographs and editorials.
Johnson received his bachelor's degree in Psychology at Duke University and his medical degree at Harvard Medical School. He served as chief resident at Yale-New Haven Hospital and as a clinical and research fellow in infectious disease at Massachusetts General Hospital in Boston.