Vijayakumar Velu, PhD
Assistant Professor, Division of Microbiology and Immunology Emory National Primate Research Center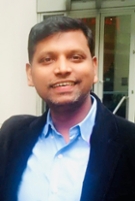 Contact Information
Email
vvelu@emory.edu
Phone
404-727-9423
Biography
Vijayakumar Velu, PhD, is an assistant professor in the Division of Microbiology and Immunology at the Emory National Primate Research Center. In addition, he is an assistant professor in the Department of Pathology and Laboratory Medicine at the Emory University School of Medicine.
Dr. Velu's research focuses on studying nonhuman primate immune responses to HIV/SIV infection and vaccines. This includes understanding the basic biology of anti-viral T, B and NK cell responses, and their interactions for generating effective cellular and humoral immunity during SIV/HIV and following vaccination. Currently, his team investigates the dynamics of T cell, B cell and NK cell subsets in the lymphoid and non-lymphoid tissues to determine the relationship between antiviral (HIV, SIV) immunity and respective viral reservoirs and their control.
In addition, his lab also focuses on studying Mycobacterium tuberculosis infection in human and nonhuman primate models. His lab uses a macaque model to investigate the cellular dynamics of T and NK cells in Mtb (latent, active) and Mtb/SIV infection. Specific research includes characterization of frequency, phenotype and function of Tissue Resident T cells (TRMs), T follicular Helper cells and NK cells in Mtb and Mtb/SIV co-infected macaques.
Dr. Velu's research team collaborates with several Indian institutions for HIV, viral hepatitis and Mtb studies. He strongly believes a better understanding of the roles of cellular mechanisms in generating effective immune responses that govern the induction of host resistance versus immunopathology is critical for successful immune intervention and rational design of more effective vaccines and immunotherapies for deadly diseases, such as HIV/AIDS, viral hepatitis and Mycobacterium tuberculosis.
Dr. Velu joined the Emory in 2005 and completed his postdoctoral training in developing therapeutic strategies to enhance immune response during chronic HIV infection/therapeutic vaccination under the guidance of Rama Amara, PhD. Dr. Velu's studies demonstrated blockade of inhibitory receptor Programmed Death-1 (PD-1) using an anti-PD-1 antibody during chronic SIV infection restored functional anti-viral T and B cells, reduced SIV viral RNA levels, and increased the host survival. This strategy has a U.S. patent: 20150239972, and Emory University licensed this PD-1 technology to Genentech.
He completed his graduate work in microbiology in 2000 at Madurai Kamaraj University and his doctoral studies in medical microbiology/immunology under world-renowned scientist Dr. S.P. Thyagarajan in 2005 at the University of Madras. During his doctoral studies, Dr. Velu investigated the safety and efficacy of novel recombinant hepatitis B vaccine from India (Genevac-B, developed by Serum Institute of India).
Dr. Velu has authored or co-authored 94 peer-reviewed publications on the topics of HIV/AIDS immunology, pathogenesis and vaccine development in some of the highest impact journals, such as Nature, the Journal of Clinical Investigation (JCI), Proceedings of the National Academy of Sciences (PNAS) and Science Translation Medicine. His work has been quoted more than 4,300 times, and he has presented about his research at major HIV/AIDS conferences, such as the Conference on Retroviruses and Opportunities (CROI), America Association of Immunologists (AAI), Keystone Symposia HIV Pathogenesis and Vaccine Development, and the Annual Symposium on Nonhuman Primate Model for AIDS, as well as at invited seminars in the U.S. and India.
Dr. Velu is an associate editor of the viral immunology section of the journal Frontiers in Immunology and an editorial member of the Vaccines and Therapeutic Development section of the journal Pathogens (MDPI). In addition, his experience includes having served as a member of several National Institutes of Health (NIH) study sections, including including HIVRAD, SEP and SBIR.