Manuel Yepes, MD, PhD
Affiliate Researcher, Emory National Primate Research Center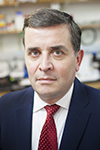 Contact Information
Email
myepes@emory.edu
Professor of Neurology, Emory University School of Medicine
Biography
Manuel Yepes, MD, PhD, is a physician scientist and board-certified vascular neurologist, has made numerous contributions to understanding how the brain responds to stroke and other injuries, and has a long history of research funding from the National Institutes of Health (NIH) and private foundations. He has published more than 90 scientific articles, book chapters and textbooks, and is the recipient of two patents. Yepes is a tenured professor of neurology at Emory University and director of the Atlanta Veterans Affairs Medical Center Stroke Team.
Yepes is recognized internationally for research on the molecular mechanisms involved in stroke and the effects of cerebral ischemia on the blood brain barrier. He has been instrumental in helping Emory develop a basic research program in cerebrovascular disease.
He received his medical degree from Javeriana University in Bogota, Colombia, and trained at the University of Cincinnati General Hospital as well as Georgetown University.