Mark Goodman, PhD
Affiliate Researcher, Emory National Primate Research Center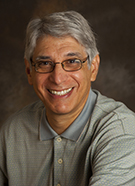 Contact Information
Email
mgoodman@emory.edu
Phone
404-727-9366
Lab Website
Professor, Radiology, Psychiatry and Hematology and Oncology
Emory University School of Medicine, Center for Systems Imaging, Wesley Woods Health Centers
Biography
After working as a chemist at Roswell Park Cancer Institute, Mark M. Goodman, PhD, joined the Department of Radiology at Harvard University in 1978 to pursue the development of positron emitting carbohydrates and fatty acids. In fall 1980, he took a position as a staff scientist at Oak Ridge National Laboratory and worked on the development of single photon labeled fatty acids and carbohydrates. Dr. Goodman's research led to the development of the methylbranched fatty acid [123I] BMIPP, which was commercially introduced in Japan as Cardiodine. In 1987, Dr. Goodman moved to the University of Tennessee Medical Center at Knoxville where he took the position of Associate Professor of Radiology and Director of Radiopharmaceutical Chemistry to help establish the University of Tennessee PET program. At the University of Tennessee, he developed the dopamine transporter imaging agents [18F] FPCT, [123I] MMG-142/IPT and translated [11C] ACBC to image brain tumors in humans. He was promoted to Professor of Radiology in 1993. In 1993, Dr. Goodman moved to Emory University where he took the position of Professor of Radiology to establish a PET radiopharmaceutical research program.
Dr. Goodman's research interests encompass positron emission tomography (PET) and single photon emission computed tomography (SPECT) radiotracer development of oncology, brain and heart agents. His research has resulted in the translation of the first reported synthetic amino alicyclic acid radiolabeled with the PET radioelement fluorine-18 for imaging both intracranial tumors and prostate cancer in patients. In applied research, Dr. Goodman's interests include the development of automated devices to facilitate the use of new radiotracers in clinical medicine.
He received his bachelor's degree in chemistry from Monmouth College and his doctorate in organic chemistry from the University of Alabama.
Learn More
Research Collaborators