About the Histology and Molecular Pathology Lab
---
The Histology and Molecular Pathology Laboratory performs tissue processing, paraffin blocks processing and embedding, slide preparation, routine and special staining, electron microscopy, immunohistochemistry (IHC) andin situ hybridization assays for various nonhuman primate pathogens, including viruses and bacteria, and cell markers. IHC services are available for established procedures and protocols. Our staff is also available to help researchers develop new protocols for ISH/FISH and IHC that use probes and antibodies.
To the left is an image of a dual immunofluorescent stain of simian immunodeficiency virus (SIV) and CD68 in the lung of an infected rhesus macaque.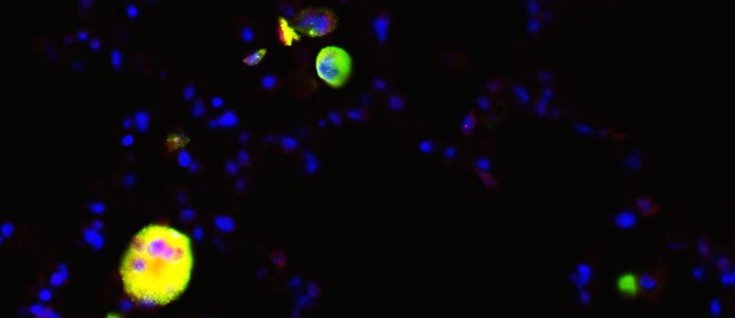 Emory NPRC Core Values
---
The Emory National Primate Research Center conducts essential basic science and translational research to advance scientific understanding and to improve human and animal health worldwide.
Our core values: stewardship, excellence, integrity, collegiality and people.
Learn More about Our Values